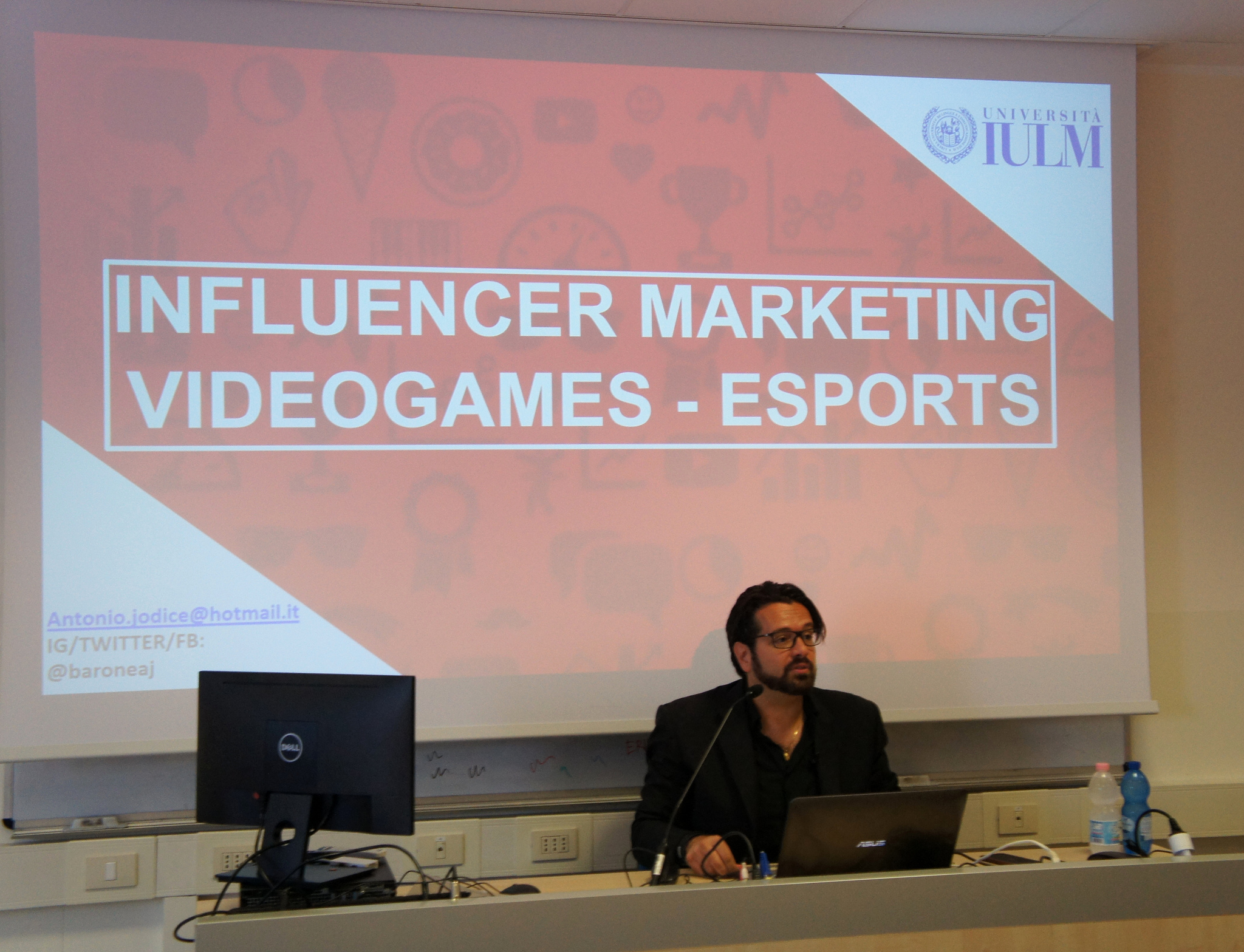 In this talk titled "Influencer Marketing. Video Games and eSports" organized for the students of the Master in Marketing and Sports Communication and Master of Arts in Game Design at IULM, Antonio Iodice gave an in-depth overview of the new modes of production associated with Content Creators on YouTube and Twitch. Focusing on the so-called "anomaly of the Italian scene", Iodice discussed the rise of branded content and product placement on YouTube, the evolution of the agency model for YouTube celebrities, and the parasitical relationship between game publishers and Content Creators.
Antonio Iodice was one of the editors of Multiplayer.it where he worked between 2002 to 2015. In 2013, he became marketing manager of Multiplayer.it. Between 2015 and 2018, Iodice worked for Web Stars Channel, Italy's key web agency that signed, among others, Favij and the Mates. At Web Stars Channel, Iodice was Head of Gaming, Movies and Tech as well as a Commercial Coordinator. He was also the show-runner for a show on Sky One, produced a pop-up channel for Sky Atlantic and played the role of General Manager for the production of two documentaries broadcast by Sky Atlantic on eSports and cosplay.
In questa lezione tenuta per gli studenti del Master in Marketing e Comunicazione Sportiva e Master of Arts in Game Design intitolata "Influencer Marketing. Video Games and eSports", Antonio Iodice illustra l'evoluzione dei content creator italiani su YouTube e Twitch.
Contenuti:
Evoluzione comunicazione dalla comunicazione sulla stampa agli YouTuber;
Dalla passione al lavoro: analisi sul perché tanti dei media creator più famosi siano legati al mondo del gaming - evoluzione YouTuber - Content Creator - breve analisi dei mezzi e piattaformeIl linguaggio degli YouTuber e passaggio del target dalla TV a YouTube (come la tv stia provando a ricatturare il target perduto coinvolgendo i creator nei programmi per teen/tween/millennials)
Importanza del target nella selezione dei creator - regole per approccio, scelta del creator e rapporto con le agenzie (evoluzione del modello della web agency)
L'anomalia del mercato Italiano per il gaming/intrattenimento;
Branded Content, product placement, quali aziende e come.
Case History legate al gaming e oltre. Il problema della conversione. Creators al cinema con anche i recenti casi di Tonno Spiaggiato e Jackal-
Introduzione del mondo eSports e dei Twitcher. Differenze del mezzo e della figura rispetto ai creator. Difficoltà legate all'anomalia del mercato Italiano di cui sopra.
Modello di business e problematiche per le aziende che vogliono investire sul settore. Ruolo delle agenzie di Management ed economie.
------------------------------------------
Antonio Iodice è stato uno dei caporedattori di Multiplayer.it dal 2002 al 2015, dal 2006 advertising e poi, dal 2013, marketing manager di Multiplayer.it. Dal 2015 è passato nelle fila di Web Stars Channel, l'agenzia nelle cui fila militano talenti come Favij e i Mates dove ah svolto il ruolo di Head of Gaming, Movies e Tech oltre che di coordinatore commerciale. In questa veste, Iodice ha seguito due stagioni di una trasmissione tv per Sky Uno, il lancio di un pop up channel per Sky Atlantic e ha svolto il ruolo di curatore generale per la realizzazione di due documentari sempre su Sky Atlantic sul tema dell'esports e cosplay.